JMS - the efficiency in aircraft wheel changing
JMS – provides the full range of hand pumped and pneumatic operated axle jacks series
J-AXLE

, highest maneuverability, fully CE compliant, lowest maintenance requirements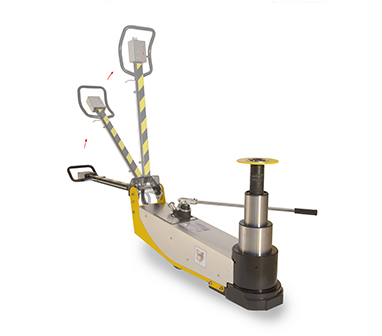 The JMS axle jacks are covering a range from 6 (6,6 sh.to.) up to 105 to. (116 sh.to.), now available from compact hand operated J-AXLE06-01HPA for operation at NLG of Business jets up to pneumatic supported J-AXLE105AHPA for operation at A350-1000 MLG, currently the most heaviest jacking requirement; featuring among others the new handle.
Advantages at a glance:
• more flexible
• more lightweight
• more agile
• faster
• safer
The J-AXLE A-series is the impressive generation of aircraft axle jacks: with component weights being cut almost by half (compared to most competition products) and a well-balanced wheel system (centered at 20 to 105 to.), these jacks are faster and more agile, hence more efficient. Not only on the tarmac, but also when positioning the jack underneath the landing gear. The CE-compliant control unit with dead-man's handle makes this jack family safer for your operators – not only when lifting the landing gear, but specifically when lowering the load! Flexibility also with the compressed media source: regardless whether you operate the jack from your hangar compressed-air network, with nitrogen bottles from your service-cart or even with nitrogen taken from used aircraft tires, just connect the hose to the inlet at the multi-lockable hand lever – the J-AXLE A-series never gasps for breath and always runs most powerful! Innovation and quality "made in Europe". That's what we call "new flexibility".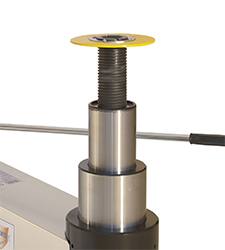 Indestructible cylinder concept:
• hardened, chromed and grinded cylinder sections,
• metal matrix lifetime seals,
• minimized maintenance tasks,
• modular design for lowest operational costs.
---
Our equation for your success:
Quick and safer operation + significantly lower maintenance efforts = higher cost efficiency!