Aircraft wheel & brake handling incl.
J-AXLE- series jacks – available ex stock
JMS AG - providing line & heavy maintenance solutions around your aircraft Wheel & Brake handling based onto specific manufactured, innovative and operational axle jacks, proof load test fixtures, wheel dollies, service carts & tire racks:
Compact AXLE JACKS series, from manual 6 to. jacks up to air-supported all-in-one-designs with 105 to. (6,6 to 115,5 US sh.to.), highest maneuverability, fully CE compliant, lowest maintenance requirements - also for fly-away consideration - along with convenient options
For further information and easier selection of axle jacks please refer to/download the following data:
• Axle-jack-select for easy selection of our axle jacks and options according to your fleet,
• DOWNLOADS-area, access to further data also in other languages,
• J-SOLUTIONS for more information about the JMS GSE-features,
• J-AXLE-Ref to access to our specific AXLE JACKS customer reference list,
• J-WHEEL-Ref to access to our specific WHEEL DOLLY customer reference list.
For bigger illustrations please click onto the corresponding picture;
contact us under sales@jms.aero for specific quotes and data - we will be more then pleased to assist you!
To get updated about our axle jack highlights please click onto the next picture.
JMS - the efficiency in aircraft wheel changing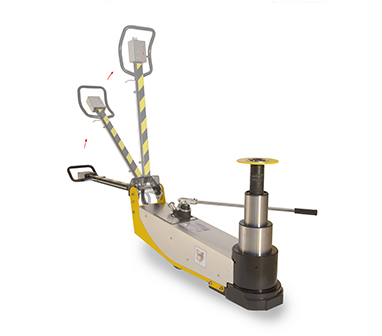 Advantages at a glance:
• more flexible
• more lightweight
• more agile
• faster
• safer
---
JMS. THE NEW FLEXIBILITY IN GSE.